This blog post is all about Arctic Cloud Developer Challenge (ACDC); a three-day hackathon competition I attended last week, a brief description of my team, what we created, and key takeaways.
Last week I spent Thursday till Saturday locked in a hotel with 50 other developers at a hackathon. This event is the year's highlight for me and has been for the past decade. This is where I play, learn, connect, test, struggle, fail, overcome, excel, help, explore, and make friends for life. This hackathon is the clue in my professional network as I have evolved from a SharePoint consultant to a Microsoft Business Applications MVP.
What is this?
Arctic Cloud Developer Challenge (ACDC for short – and yes, we know that's a band too) is a three-day hackathon. Traditionally Microsoft partners and customers from Norway and Sweeden send a team with five of their best developers, low coders, front-enders, and technology specialists. This year we were 10 teams! The teams compete against each other to create the best solution in your categories; Excellent User Experience, Most Extreme Business Value, Rock Solid Geekness, and Killer App.

My Team: The Bastards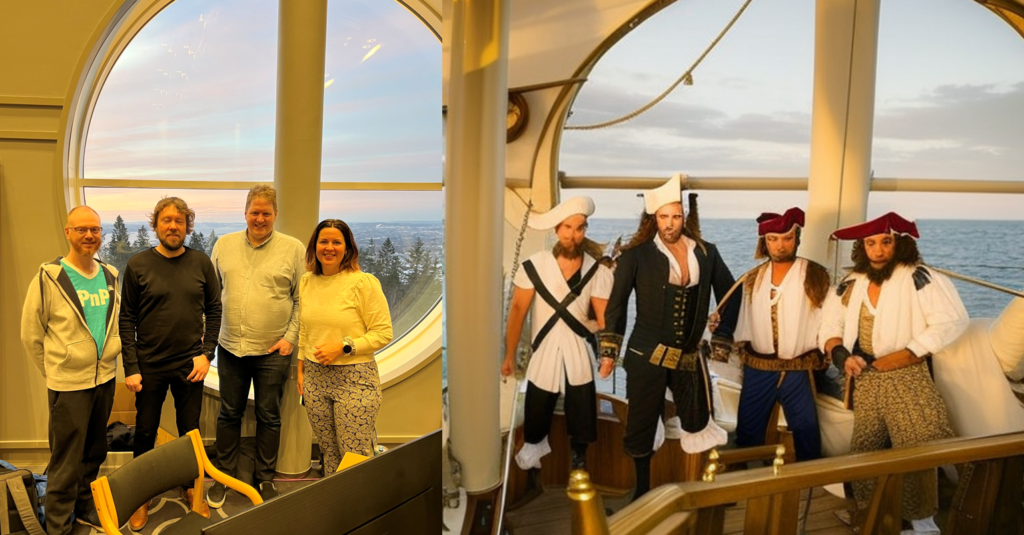 The picture to the left is the "Morning Glory" picture taken of us; The Bastards, on Friday morning. We get points for getting up, take a picture and post it on the blog before the sun comes up. The picture on the right is AI's interpretation of us as pirates 😉
From the left; Mikael Svenson (Microsoft), Martin Onstad (Itera), Marius Børresen (Felleskjøpet) and me; Ulrikke Akerbæk (Itera). We called ourselves The Bastards because we all come from different companies – not representing one company as the other teams.
What we created
The idea was to create a big solution that will help the Captain of a pirate ship to predict if the crew will mutiny. To translate this into business terms; let the management team monitor employee satisfaction and know in advance if employees are thinking of quitting.
The App
We created a Canvas App that allows us to capture new pirates by taking pictures of people and turning them into pirates! The app is triggering a Power Automate flow that sends the photo to an AI service and returns the image "piratified".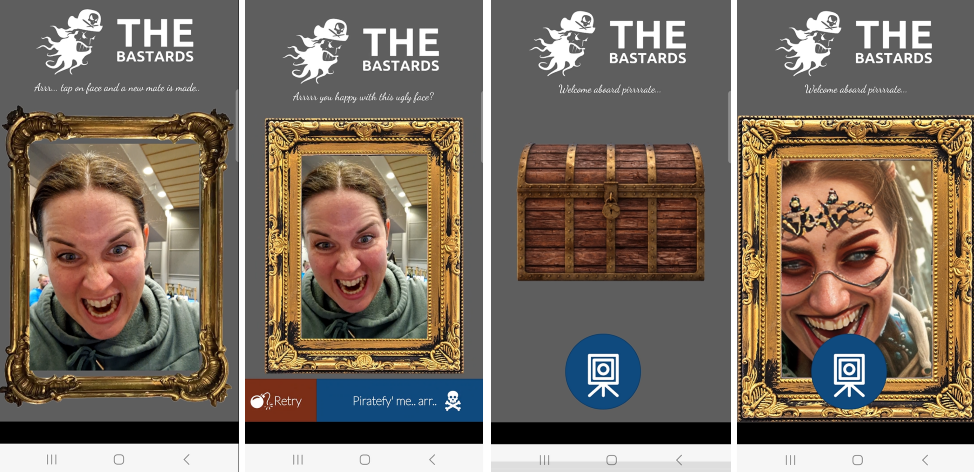 Another flow is triggered that asks the AI to create random pirate names, traits, jobs, and what ship they are serving on. We store all the pirates in Dataverse as contacts.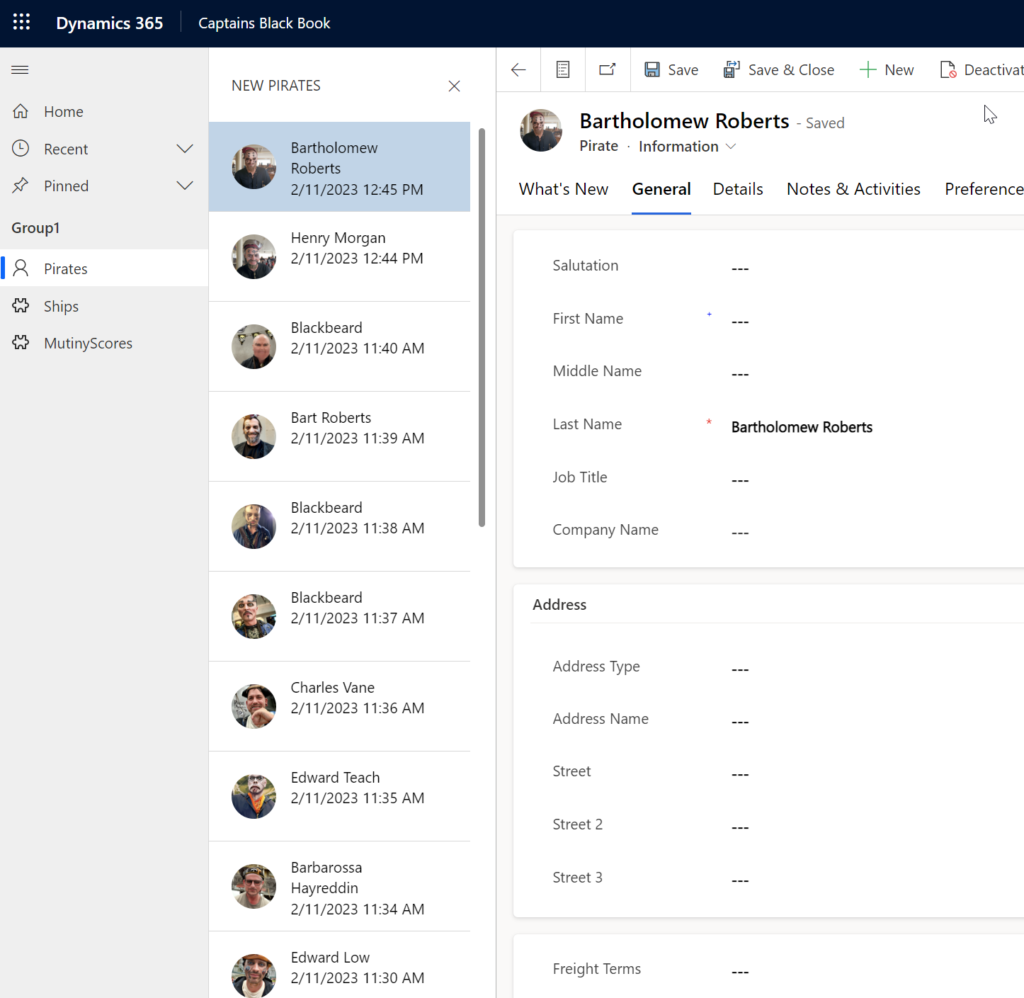 The dashboard
When the pirates are created we also create random satisfaction scores, and those scores ultimately make up an overall mutiny score for the crew. We visualize the score in a dashboard for the captain to monitor. The captain can see the pirate ship, and the mutiny score is presented on a line chart as water. If the mutiny score is high it will look like the ship is drowning. If the mutiny score is low it looks as if the ship is sailing in calm waters. Nice, right?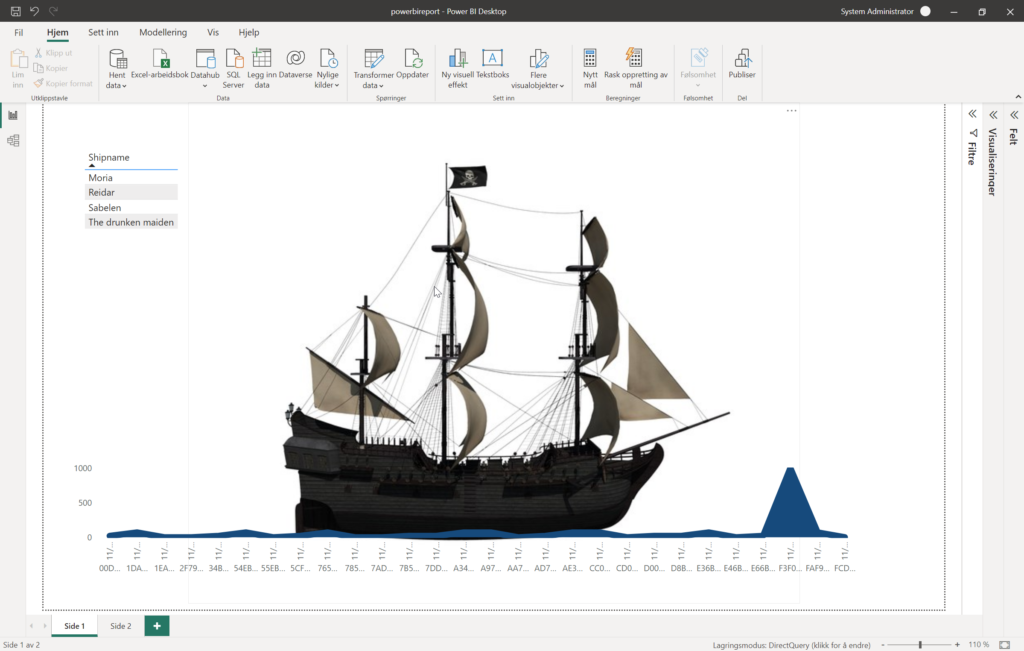 The winners
At the end of three days of intense work, lots of fun, and struggle, the team with the most points wins. This time the winner wasn't us, but we got top three as was our goal. Also, most important to me, we won the award for "Excellent User Experience".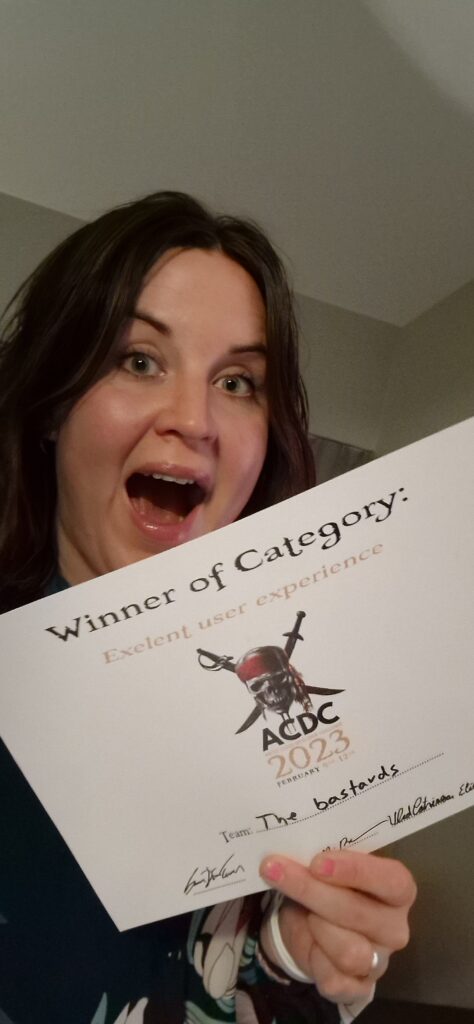 The Blog
All the teams earn points by writing blog posts throughout the competition where we describe what we have created. The judges read all the blog posts and look at our solutions during the whole event, and they award us points. You can read all the blog posts from our team here:
https://acdc.blog/the-bastards
Also, if you explore the blog further you can find others teams' posts and posts from previous years as well. It's worth having a look at the winning team's final blog post as well:
https://acdc.blog/evidi1/finaly-delivery-evidi-sabeltanns-pirates-365/
Key takeaways
Open AI and Chat GPT have been around for a couple of months, and everyone was looking into infusing this into their solutions. We used AI to create photos and data for us, it wrote code, helped us when we got error messages and created a color palette for our brand. It also created a pirate song for our team that we recorded and Chat GPT wrote some of the blog posts. I am happy to have had the chance to play with AI in this way, pushing it and finding some of its limits. This is definitely going to change the way we work and create going forward, and I now have a much better understanding of how a massive change this will make in our lives.
The most important takeaway for me, though, is watching people learn new skills and products from scratch. It blew me away to see the incredible learning curve of my teammate Martin as he used the Power Platform for the first time. Also, the tremendous importance of having experts ready to help and guide someone as they take their first steps. I loved to watch as the community came together to help one another, even if they were competitors at the time. I have seen what comes easy and what parts are not yet intuitive as newcomers start using the different products of Microsoft Power Platform and Power Pages. This has already inspired me to think differently when preparing for the community work I am doing in the coming months.
Now what?
The event this year was by far the best I can remember and we will be back next year. The theme and dates are yet to be revealed, but you can always find the latest updates here: